Reference Designs
Silansys has a significant IP and Reference Design Portfolio of silicon proven IP to reduce cost, risk and time-to-market for your Custom ASIC product.   In addition there is significant test code and hardware at bench and ATE product test that can be leveraged.
Reference designs include High Performance Sensors, H-bridge Motor Controllers, ISM-band Wireless SoC and HV Gate Drivers – please contact Silansys at info@silansys.com for more information.
Sample Reference Design : High Performance 16b 85dB SNDR Sensors with uC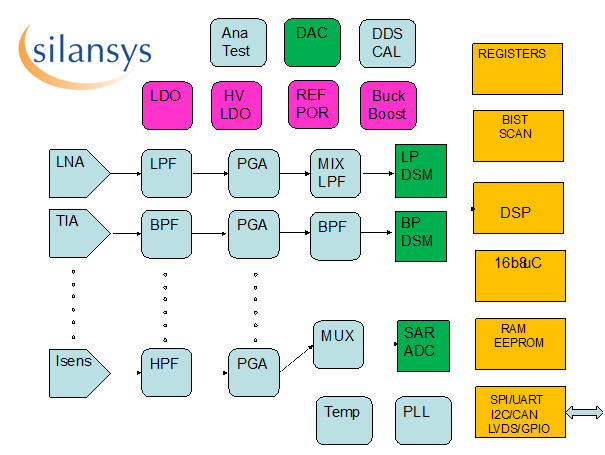 Our High Performance Mixed-Signal Sensor Reference Design is targeted at markets including:
Industrial, Scientific, Healthcare, Navigation/Silicon Photonics, Chemical Analysis, Optical, Environmental Analysis
The Reference Design enables rapid development of multiple functions including:
Lock-in Amplifiers & Synchronous Detectors, Impedance Spectroscopy, Precision Sensor Measurements, Medical Signal Measurement and Processing
includes key blocks and attributes :
Ultra low noise (2nV/rt.Hz), high gain and linearity, low crosstalk multi-band voltage/current inputs
16b low-pass and band-pass single-bit Delta-Sigma A/Ds, 8b/10b SAR ADC
Flexible gain (PGA) and programmable LPF/HPF/BPF analog filters
Direct and mixed down-conversion sampling
16b uC system with RAM/EEPROM, DSP/Demodulation, BIST and SCAN
Digital interfaces including SPI/UART/I2C/GPIO/LVDS
05% absolute accurate DDS Digital Signal Generation with 60dB programmable o/p range
Capless LDO's, DC-DC, Bandgap Reference, Power-on Reset, Watchdog, Temperature Sensor
Integer and Fractional-N PLL to 400MHz
Email or call to discuss your requirements.