Development and Supply of Custom ASICs
Silansys is a leading high performance  mixed-signal ASIC supplier with products in development for healthcare, industrial, communication, IoT, and data-processing applications.  Over the past 15 years Silansys has won repeat business from market leading OEM customers and has been the silicon partner to several highly successful startups.   Our in-house expertise covers the broad range of complex silicon, system, firmware, custom packaging & sockets, hardware, test and qualification development.  Our supply chain includes leading OSAT and foundry partners. Our silicon proven IP and Reference Designs significantly reduce cost and risk, and accelerate time to market.
Email info@silansys.com to discuss your ASIC requirements.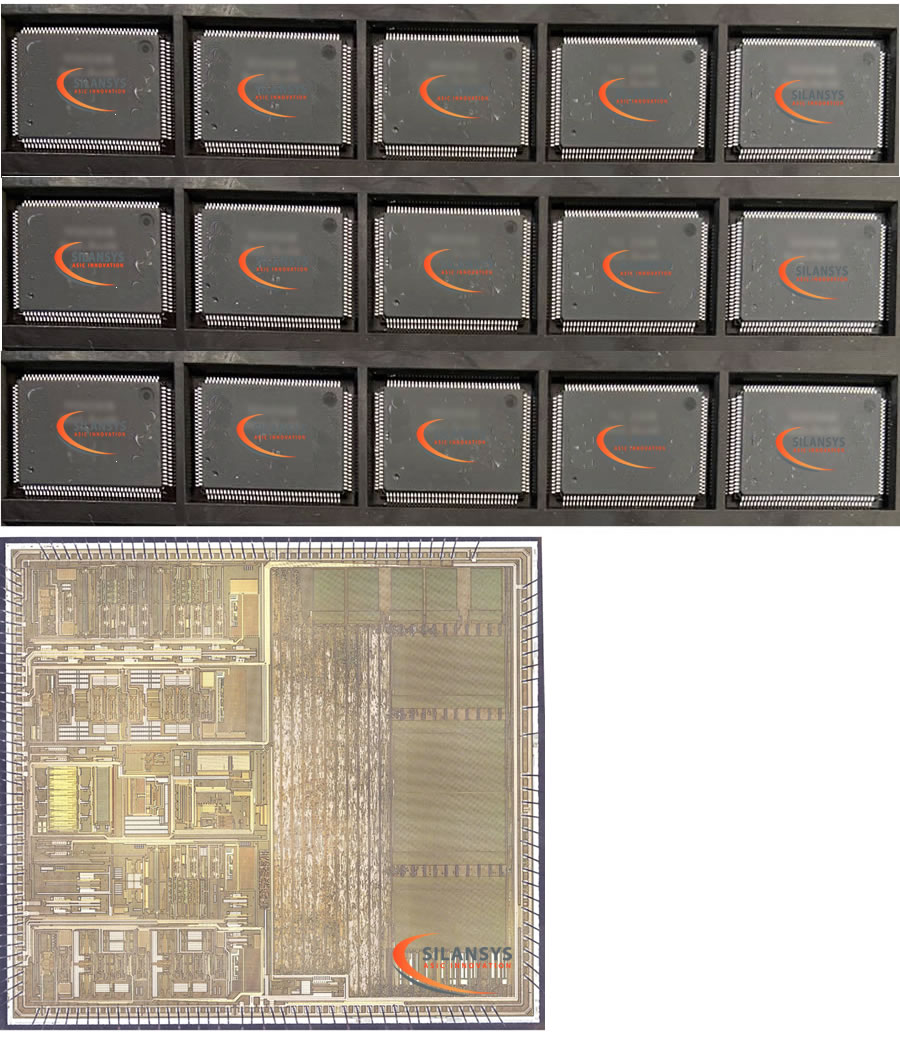 Recent ASIC developments include :
16bit Lockin Amplifier SoC : Low noise high linearity multi-band AFE, 4 x 16b ADC, DDS, 16b MCU, SRAM, EEPROM, DSP, custom LQFP package, -40C to 175C operation.
12nm TSMC Data Processing ASIC : Integrated eFPGA, Multi-lane 25Gbps Serdes, custom RTL, SRAM, eFuse, DDR, custom flip-chip BGA
Neurostimulation Biosensor Implant SoC : HV power management and neurostimulation, ultra low power consumption, biosensors, 16b ADC, WLCSP package
ASIC engagements commence with :
Feasibility analysis, project plan, die size and cost analysis, NRE confirmation
System modelling, design & architecture of complete product + BoM
Engagement with customer scientists/engineers to finalise the specification
Foundry and package selection, production plan
Silansys manages all aspects of the development and supply of the ASIC :
IC Development, Characterisation, Lifetest/Reliability, Qualification, Yield
3rd party supplier management : Foundry, ATE Development, Probe Test, Package Test, Packaging
Delivery of production plastic/ceramic packaged devices or KGD
Management of any field returns
Silansys is a leader in highly integrated ASICs for high temperature and harsh environment applications
High temperature mixed-signal ASIC for extended life/ high reliability, wiring and space saving
One-touch ATE wafer probe for minimal die stress
Custom wafer saw processes for minimal die stress
High temperature PCB for ASIC characterisation, ATE and Lifetest
Visual die inspection to MIL or proprietary standards
Ceramic packaging and KGD